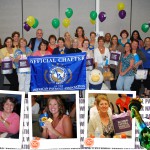 What's New
OCCAPA tracks memberships on a calendar year basis
Jan. 1 – Dec. 31
$70 Individual – National Non Member
$60 – Individual – National Member with Member ID #*
Jan.1 – Dec. 31
$150 Corporate – National Non Member**
$40 per each additional Corporate Member – National Non Member**
$140 Corporate – National Member with Member ID #*
$30 per each additional Corporate Member – National Member with Member ID #*
*NOTE: You must provide member ID #.
**NOTE: Corporate membership within the same company consists of 3 members per fee. $40 for each additional member beyond 3 for a National Non Member and $30.00 for each additional member beyond 3 for a National Member.
Click here to register online or download the registration forms.
Great Reasons to Join or Renew!
Regularly Scheduled Meetings – Chapter meetings are an ideal place to network and they provide educational opportunities for chapter members to learn more about critical payroll and compliance issues while earning Recertification Credit Hours (RCHs).  Non members are  charged a $20.00 Fee per Regular Meeting.
Chapter Newsletters – Our OCCAPA – Payroll Insider newsletter keeps our members connected with chapter and APA events, as well as providing updates from various chapter officers and committees.
Chapter Website – Our website, www.occapa.com, posts important chapter information and links to local government agencies, including a link to the APA National Website.
Thank you for your support and interest in the Orange County Chapter of the APA.