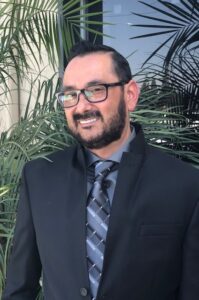 National Payroll Week is the time to recognize and say "Thank You" to the amazing payroll professionals.  We should not only celebrate it because it is something to be extremely proud of, but to show people why this is important and why it is something to be celebrated and definitely something to talk about.  So that is why I am very excited and happy to shower John Valverde with deep appreciation in Celebration of National Payroll Week this year.  I wanted to showcase how hard John has worked to get where he is today and that he has deserved it and should be extremely proud of himself.  John is exceptional and impressive. He is our newly elected Treasurer of the OCCAPA and we are very fortunate to have him.  It is amazing how quickly and how completely he has established himself in his role.  John says, "It's been a rewarding and learning experience in the Treasurer Role.  We were without a Treasurer for some time and organizing the financials took more of an effort and more time was involved.  I am very happy to have those now up to date." John is the Senior Payroll Manager for Alliance HealthCare Services.  He states "The people are what makes me most happy with Alliance, from the Payroll Team, to the HR Department to the Accounting Department.  There are a lot of incredible people that surround me."
John has lived in California his entire life.  Born up north, but grew up in Anaheim from a very young age.  He now currently resides in Long Beach.  John attended California State, University of Long Beach, obtaining a BA in Speech Communication.  His career goal after college was to make Human Resources a career.  As you will see below, that didn't quite work out. John's main hobby is recreational softball and has been playing softball for many years.  He enjoys the game and especially the friends that have come along the way.  It's been tough for John not having that now in the Covid world and also, not getting that workout in.  Growing up in Anaheim, John has always been an Angels Fan. He loves the Lakers and the Dallas Cowboys (his father lived in Dallas).  John absolutely misses attending the Angel games!
As with many Payroll Professionals, payroll was not a goal in mind for John when he started out. Can you believe that John now has been in Payroll for 26 years?  He started work at the age of 10.  We all know that back then child labor laws were not as they are today.  However, his "payroll" career actually started out as an HR/Payroll Assistant at Bally Total Fitness, which is no longer in existence.  He was in that role for about a year when the corporate payroll team moved.  It was then that the payroll manager approached John with the opportunity to solely process payroll for the company.  From that point on, payroll has been his world and career focus.  John is now the Senior Payroll Manager for Alliance HealthCare Services (formerly known as Alliance Imaging).  He has been with Alliance HealthCare Services for over 21 years and has a team of 6 on his Payroll Team.
Alliance HealthCare Services provides Diagnostic Radiology, Radiation Therapy and Interventional Radiology systems in a variety of settings.  John has been lucky during his tenure at Alliance, that he has had the opportunity to have incredible bosses over the years.  John has had his current boss, Tava Mericle, the Director of Accounting and Administrative Services for the last 15 years.  Tava has been extremely supportive of John.  This has helped him extremely, when there is good leadership above you available.  John says "that is what makes being at Alliance even better."
John remembers when he began at Alliance they used Paper Time Sheets, there were about 1700 employees at the time, but spread throughout the country.  "Every Monday (we were bi-weekly, but half paid one week and the other the next), the team would grab a ruler, and with their head down, key in the timesheets into a home-grown time tracking system."
His first implementation was in 2003 when they moved to ADP, using the Enterprise platform.  Then they implemented Kronos in 2007 and finally came off of the paper timesheets.  He was then able to move everyone onto one payroll.  He continued with ADP, eventually moving to the hosting platform and eTIME (which is essentially Kronos).  John's Payroll Team was the first to implement Self Service for the company. It was basically Pay Statements Online. John and his payroll team were driven to get as many off of paper checks as possible.  The choice was direct deposit with online access to their check or a live check.  They ultimately came to 95% of the population off of the paper check.  Please note that this was back in the day when many were resistant to this change.
The Human Resources Team at Alliance HealthCare Services implemented Workday HCM in January of 2018.  In January 2019 the Alliance Payroll moved onto Workday, implementing Payroll, Time Tracking and Absence. This was a very challenging and fulfilling implementation for John.  Literally for John, it was a year of working 12 hours or more per day/7 days a week.  He had no life to speak of, but was very determined for it to go right and be successful.  He had a very strong and a very good team inclusive of HR, Payroll, IT and outside consultants, everyone worked hard, it was a great collaboration.  It was a very good Workday implementation for John. His first payroll with Workday resulted in 20 manual checks due to issues.  Which is not so bad!  They are still learning and there have been a few bumps in the road since the Conversion/Implementation, but it was definitely a success.
John has been a member of both the APA & OCCAPA for the last 20 years.  He became the Membership Director of the OCCAPA in 2017, and moved into the Secretary position for two years.  He currently holds the position of Treasurer for the Orange County Chapter American Payroll Association.  He has also participated in the California Payroll Conference for 3 years.
In 2000 John sought out to become a Certified Payroll Professional.  At that time he participated in the OCCAPA Study Groups. The study group turned out great for him and passed the CPP exam on the first try.  He met many great people preparing for the CPP exam and many are close friends today.  He went to his first APA Congress in 2000 and has attended Congress every year since then, 20 times.  John says, "Congress is an incredible event, it is where you build your network".
He would like to offer the following tips or advice to all Payroll Professionals:
Get involved in the profession.
Join the Local Chapter or the National APA.
Attend the local chapter meetings and network with the great people in the organization. It's very fulfilling and it assists with your career progression.
If something ever goes wrong with a Payroll or was missed, add it to your processing check -list so it doesn't occur again!
BY:  Remy Jay, CPP, OCCAPA Webmaster