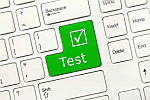 The CPP is an advanced credential for those with payroll knowledge and experience.
Certification Exam Application
A Certified Payroll Professional candidate must complete an application to take the CPP exam. The APA's Certification Department must approve the application before the candidate can register for the exam. The APA's CPP Committee reserves the right to audit applications to verify applicant eligibility.
About the Exam
The exam is offered in North America during the following windows:
Fall 2018
Registration: July 10 – October 12, 2018
Exam: September 15 – October 13, 2018
Spring 2019
Registration: January 15 – April 19, 2019
Exam: March 23 – April 20, 2019
Exams administered from September 15, 2018 through September 13, 2019, feature questions based on federal laws and regulations in effect as of January 1, 2018.