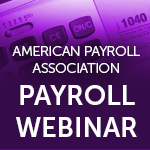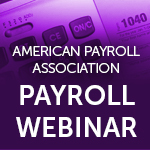 Thursday, January 31
1:00 p.m. – 2:30 p.m. EST
This class is Full, but the On Demand version is available for purchase here
Discover the latest changes you need for successful payroll processing in 2019. In this session, we will reveal what new laws and regulations will impact your processing in 2019. By attending this webinar, you will learn:
The latest regulatory issuesimpacting payroll processing
How the 2019 changes will impact your payroll processing
Credits: 1.5 RCHs/0.15 CEUs/1.5 CPE credits.