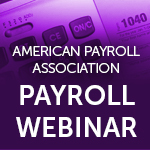 Wednesday, February 6
1:00 p.m. – 2:30 p.m. EST
Member Price: Free*
Do you get confused when a new or revised Form W-4 arrives in payroll? What is your responsibility to ensure the form is valid? When should you reject an employee's Form W-4? The Form W-4 is one of the most basic forms in payroll, yet it can also cause distressing problems for payroll professionals. By attending this webinar, you will learn:
The purpose of the Form W-4
When a Form W-4 must be submitted to the employer and what it tells the employer
How long the forms should be kept, and when an employer should reject a Form W-4
The rules for nonresident aliens, and more!
Credits: 1.5 RCHs/0.15 CEUs/1.5 CPE credits.