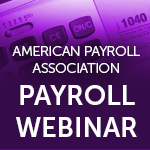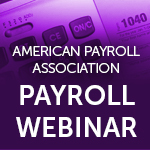 This 2-part webinar will examine the significant changes to the 2020 Form W-4and will provide answers to your questions. The class is taught by Michael O'Toole, Esq., In-House Counsel and Government Relations/Editorial Advisor for the American Payroll Association, and original author of The Payroll Source®.
Thursday, 12/12/19, 1:00-2:30 p.m. ET (90 minutes)
Part 1: The Final 2020 Form W-4 Is Here. No Allowances, No Problem.
The IRS has substantially revised the 2020 Form W-4, Employee's Withholding Certificate.
It may be completed by an employee in five steps, and none of them involve allowances.
During this webinar, you will learn:
How the 2020 form is different from previous forms
Whether all employees need to submit 2020 Form W-4
How the IRS's Tax Withholding Estimator can help your employees
Ways to best communicate the changes to your employees
How to get payroll and HR ready to onboard new employees
Thursday, 12/19/19, 1:00-2:30 p.m. ET (90 minutes)
Part 2: What Is Publication 15-T and How Do I Use It?
The newest IRS guide for payroll professionals is Publication 15-T, Federal Income Tax Withholding Methods. It contains the wage-bracket and percentage method withholding tables, as well asnew, detailed withholding procedures showing how to use information from Form W-4.
During this webinar you will learn:
What is important for payroll professionals in IRS's Publication 15-T
How old and new Forms W-4 and Publication 15-T work together
How to make sure your payroll system is compliant with the new rules
Real-life examples showing how to calculate employee withholding
Guidance you can share with your payroll department